The color pink can mean different things, depending on the shades. Stronger shades of pink like magenta, fuchsia, or hot pink indicate power, romance, passion, and strength. On the other hand, the soft or lighter shades of pink are colors of gentility and softness. The ancient Asian civilization also used pink flowers in many ways.
The color pink is always associated with the feminine nature. It also carries all the embodiment of grace, elegance, strength, and love that it represents. In recent times, the pink flower has become a symbol for breast cancer awareness. Besides all these many significances of the pink flower, it also serves for beautification purposes. In this article, we will look at different types of pink flowers and what they signify.
The Significance of Pink Flowers
The most common meanings of the pink flower are love, passion, and sentiment. The color pink is contemporary and versatile. Pink flowers grace many occasions. Some of the events include happiness like graduation, the show of love, and gratitude.
Pink flowers provide an easy avenue for you to express all kinds of feelings. Sending a gift of pink flower bouquets to a loved one can stir up emotions of love. However, different people value pink flowers differently, which can affect their meaning personally.
Common Pink Flowers of Pink Flowers
The Pink Rose
The pink roses were first discovered in fossils and date back to about 5000 years ago in China's Imperial garden. The pink Rose was also a significant part of the Victorian era, making up a part of the greeting cards. Depending on the shades of the pink, it can either indicate gratitude or love.
Dark-pink Roses were on greeting cards during the Victorian era as a sign of gratitude. On the other hand, the lighter shades of pink roses signify first love, admiration, and congratulations.
Carnation
Pink remains the most dominant color of the carnation, ranging from mild pink to shocking pink. Carnation has a Christian undertone and was the preferred choice for interior decoration during the Roman and the Greek eras. Carnation passes a subtle message which says, "I will never forget you or you are at heart."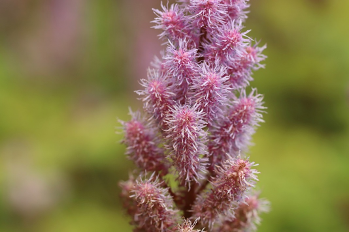 Astilbe or False Goat's Beard
The Astilbe or false goat's beard is very popular for its unique looks. They have glossy and fern-like petals and grows in the plumes. The pink Astilbe can create a feeling of texture and completeness to any bouquet. The Astilbe or false goat's beard means I will be waiting for you.
The Pink Dahlia
The Dahlia stands out for its petals, which are uniquely layered and arranged. The Dahlia is a special gift for those you cherish and treasure. A gift of pink Dahlia stands for kindness and grace. It also signifies the commitment and the consciousness of challenges before a person. You can send your loved one a pink Dahlia in their trial times as a representative of your support and positivity towards them.